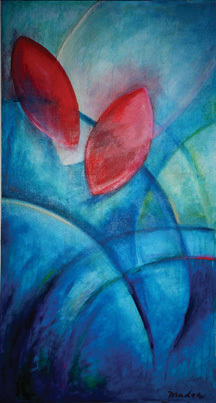 License Number
NYS LMT #010780
89 Greenpoint Ave
Brooklyn, New York 11222
USA
tel. 718 383-6033 Landline (day)
tel. 347-336-2091 cell (evening)

Hours of operation / Fees
$115 for 1 hour session in Greenpoint, Brooklyn
Mon - Fri 9am - 6pm
Driving directions
To Greenpoint Brookyn: Subway: E, M or 7 train to Court Sq/23rd St (formerly 23rd & Ely/45th Courthouse Rd) in Queens and switch to G train towards Brooklyn to Greenpoint Ave. or L train to Lorimer St switch to G train towards Queens - Greenpoint Ave.

Driving From Bklyn/SI: BQE East to McGuiness/Humbolt exit 33. Take left fork on ramp to McGuiness Blvd (cross under BQE). Make left on Greenpoint Ave at Key Food. Between Next 2 lights.

Driving from Queens: BQE West to Morgan/Meeker exit. Straight to a right onto McGuiness Blvd. To a left on Greenpoint Ave at Key Food. Between next 2 lights.
Available for patients:
Case studies, easy to understand explanations about the CranioSacral System, Visceral Manipulation, products to use between sessions, and much more. More information
Patricia Mader
LMT, CST-D
Patricia Mader is a Diplomate Certified CranioSacral Therapist with the Upledger Institute, a NYS Licensed Massage Therapist and holds a Master's Degree in Holistic Nutrition. She has been in practice since 1997. By using a variety of manual techniques she strives to use the right tool for the right job as she brings you out of pain & dysfunction & back into balance. Patricia believes that a gentle whole-body approach, integrating mind, body & spirit is the way to complete healing. Most clients experience significant change in 1 - 4 sessions. Patricia works with people of all ages and reasons for treatment including: migraines, headaches, neck & back pain, joint pain, sinus issues, Central Nervous System disorders, Chronic Fatigue Syndrome, Fibromyalgia, pre & post surgical dysfunction, visceral issues, TMJ, as well as others... I HAVE A CAT (often outside, not snuggly or terribly allergy inducing)
My skills
CranioSacral Therapy - Diplomate Certified, Visceral Manipulation, Brain Therapy, Lymphatic Drainage, Mechanical Link, Total Body Assessment, SomatoEmotional Release, Neural Manipulation, Bach Flower & Nutritional Counseling (using Nutrition Response Testing with Standard Process & Energetix Products).
Professional Associations / Memberships
International Association of Healthcare Practitioners, International Massage Association, New York State Society of Medical Massage Therapists.