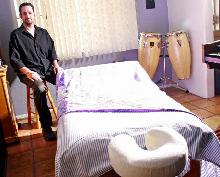 Chi Massage Tucson
About Me
Tim Darmetko is a 38th generation lineage holder who has studied under Korean Master Dr. Myung Chill Kim. He has studied both the healing and martial arts since 1994. He has studied with 37th Generation Master Myung Chill Kim O.M.D. since 1994, and was granted his instructors title by Master Kim on July 15th, 2000.
Tim has also studied with Master Augustine Fong O.M.D., 4th Generation Bagua Master Vince Black O.M.D., 6th Generation Bagua/Xingyi Master Sean Farmen and a number of other exceptional teachers from around the United States and abroad. He has also studied Swedish, sports, pediatric, pre/post natal massage and continues to study any new modalities that have success in healing. He also has been practicing and still studies 3 different types of Craniosacral Therapy; Upledger, Milne, and Biodynamic. Tim has also been a member of the International Association of Healthcare Practitioners since 2000.
Professional Associations / Memberships
International Association of Healthcare Practitioners
My skills
Craniosacral Therapy .
38th Generation Korean Qi Massage . Massage. Shiatsu . Reiki. Tui-Na. Tibetan Belly Work. Pedorthics. Yoga . Kung Fu. Meditation . Herbs and diet studies
1131 N Nema Ave
1131 N Nema Ave
Tucson, Arizona 85712
United States
tel. 520.342.7680 (day)
tel. 5203427680 (evening)

Hours of operation / Fees
1 treatment is $80.
1 1/2 treatment is $110. discounts to seniors, military, and for purchasing package deals in advance.