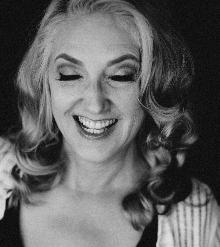 Pamela S. DuMond
About Me
My name is Pamela DuMond, D.C. I've been a practicing chiropractor and cranio-sacral therapist for over thirty years.
I believe everyone's health and emotional issues are unique. I respect my patients and give them as much information as they want to help guide them from dysfunction and/or pain, to health and wellness. I've worked with babies, special needs children, people with back pain issues, and even hospice patients. I've treated members of the Chicago Bears and other celebrity athletes, worked with actors, Film/TV producers, and rock stars. After thirty years my practice runs the gamut.
I love working with anyone who is motivated to feel better, stronger, and healthier. (I especially love working with kids.)
If you're looking for a more practical approach, I'll design a bio-mechanical, anatomy based therapy program specifically for you. If you're seeking more intuitive treatment, I've been told I am one of the most intuitive practitioners in Los Angeles. My favorite option is to blend the eastern and western alternative medical treatment approaches. Cranio-Sacral Therapy and Visceral Manipulation combined with other modalities are powerful tools that can relieve the stress and pain that clog our lives.
Treatments can be booked in advance for 25 minute, or 50 minute sessions. Nearly all that time is spent hands-on. My home office is clean, relaxing, and simple.
On a personal note: I discovered Erin Brockovich's life story, thought it would make a great movie, and pitched it to 'Hollywood'. I'm a USA Today bestselling author. My book STAYING YOUNG: Simple Techniques to Look and Feel Younger is available in paperback and as an ebook on most platforms. My book THE MESSENGER was optioned for film/TV. Personal joys include working out, family/friends, writing, reading, Film/TV, animals, and laughter. Life is precious, but it isn't always perfect, or easy, or pretty. Follow your dreams and live life bravely.
Let me know how I can help you reach your goals.
All my best, Pamela DuMond, D.C.
Professional Associations / Memberships
IAHP
Romance Writers of America
RWA - Los Angeles Chapter, aka LARA
New:
New charities and fund-raising opportunities frequently come into my life allowing me to give back to worthy causes.
My skills
*CranioSacral since 1986; Advanced level.
*Visceral Manipulation since 1990; Advanced.
*Doctor of Chiropractic since 1983.
*Massage and Rehabilitative exercises since 1983.
Former: Caretaker for Seniors with advanced Senile Dementia.
*Baby Bodywork! Welcome Baby to the world by de-stressing birthing issues,crabbiness and colic through gentle unwinding.
I run a 'Boutique-style' Practice. I don't do cookie-cutter work. I don't rush patients in and out of my office. I do NOT run a bodywork 'mill.'
Articles & Books Written
I pitched the true life story of Erin Brockovich to 'Hollywood'. Erin Brockovich the movie was nominated for four Academy Awards, including best picture.

STAYING YOUNG: Simple Techniques to Look and Feel Younger is available in print and as an ebook. My works of fiction are available in print, eBook and some in Audible on Amazon, Barnes and Noble, Kobo, and iBooks.
License Number
California Licensed Chiropractor
Venice, California (address upon request)
Los Angeles, California 90291
USA
tel. 310 396-8828 (day)

Hours of operation / Fees
*Note: I respond to emails much quicker than phone messages.
Fees: Flexible. Vary according to length of treatment time.
Hours: Afternoons and early evenings, including weekends.
Driving directions
Upon request.
Available for patients
Case studies, easy to understand explanations about the CranioSacral System, Visceral Manipulation, products to use between sessions, and much more.