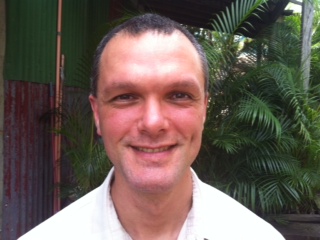 Kyle Grimshaw-Jones
B App Sc (TCM), Dip App Sc (Nat), ND, Dip RT, Dip Shiatsu, Dip Yumeiho Therapy Grade 2
About Me

My ancestry traces from Irish, Scottish, English, South African, and New Zealand Pakeha and Maori roots. According to my whakapapa (Maori family tree) I am descended from Hone Heke, and from the Maori tribes of Ngapuhi, Ngati Awa, and Ngati Pukenga, and my ancestors came to Aotearoa (New Zealand) on the Matarahurahu waka (canoe).
1990
Certificate of Shiatsu
, School of Eastern Medicine and Arts with Rod Berger
Additional private studies with:
Master Jirong Zhang in Qi Gong, Chen Taijiquan, Hsing I
Mareko Kasugai in Zen Shiatsu, Meridian Stretching and Jikyo Jutsu
1990-1992
Bachelor Traditional Chinese Medicine
, Academy of Natural Therapies
1990-1994
Diploma Naturopathy
, Academy of Natural Therapies
Above two qualifications required training in
Health Sciences
including: anatomy, physiology, biochemistry, pathology, differential diagnosis, herbal lab research, and basic psychology.
1990-1992
Diploma of Remedial Therapies
, Academy of Natural Therapies
1991
Nature Cure
with Kenneth S. Jaffrey (10 days)
I attended training in
Seitai
, a Japanese system of structural realignment, conducted by David Brown.
1993 C
ertificate Soft Tissue Therapy
, Academy of Natural Therapies. Training conducted by Craig Berry.
1996 Practitioner and Instructor of
Body Electronics
training, and
Iridology-Sclerology Integrated Diagnosis
with Dr John Whitman Ray (4 weeks)
1997 I was a member of the core network which started the Universal School of Holistic Healing Arts (U.S.H.H.A). There I taught 8 week self-healing courses, breathing exercise workshops, and hydrotherapy (or
Body Hydropathy
as it became known), and practiced Shiatsu, Naturopathy, and Body Electronics.
1997-1999 For three consecutive years I was a member of the instructing panel at the
Body Electronics Instructor Training Seminars
. These were live-in courses of 6 weeks, 2 months, and 6 weeks duration respectively.
1998
Certified Instructor of the International Healing Tao
(since renamed Universal Tao) (4 weeks training)
and attended the practitioner training in
Chi Nei Tsang
I, a system of abdominal bodywork (1 week training).
I formed the first Australian chapter of the
Weston A. Price Foundation
- an organisation dedicated to healthy diet and lifestyle education -
www.westonaprice.org
2008
Diploma of Shiatsu and Oriental Therapies
HLT50207, Australian College of Eastern Medicine
2013 Traditional Chinese Medicine was formally included by AHPRA with the formation of the Chinese Medicine Board Of Australia. I was formally registered as an
Acupuncturist
and
Chinese Herbal Medicine
Practitioner.
2013-2017 Several trainings including Basic, Advanced, Updated Material twice, and Children and Adolescents with Kiiko Matsumoto and/or her student Monika Kobylecka in
Kiiko Style Acupuncture
, including attending Grand Rounds twice.
2016
Integrated Synergy Therapeutics
including
Acu-Zone
Therapy with Dr Masaaki Nakano.
Formal Post-Graduate Studies in Manual Therapy from the following:
Barral Institute - Visceral, Neural & Visceral Vascular Manipulation and New Manual Articular Approach
Upledger Institute - Craniosacral Therapy & Somatoemotional Release
Manual Therapy Institute
Jones Institute - Strain Counterstrain and Fascial Counterstrain
Advanced Trainings - Advanced Myofascial Techniques
Ridgway Institute International
Direct Myofascial Techniques
Yumeiho Australia
Hip to Toe
Counterstrain Academy - Fascial Counterstrain
Professional Associations / Memberships

ATMS Member #21512 STAA Member #901498 RAoA Member #4456
My skills
Naturopath
Acupuncturist
Remedial Massage Therapist
Swedish/Deep Tissue/Therapeutic Massage
Manual Therapist
Visceral Manipulation Neural Manipulation Neuromeningeal Manipulation Manual Articular Technique Vascular Manipulation Neurocutaneous Technique Craniosacral Therapy Somatoemotional Release Jones Strain-Counterstrain Facilitated Counterstrain
Fascial Counterstrain
Myofascial Technique Advanced Myofascial Technique Soft Tissue Therapy Reflexology Shiatsu Seitai Chi Nei Tsang MME (Mobilisation, Manipulation, Exercise of the Feet) Yumeiho Therapy
Articles & Books Written
Your Magnificent Small Hemipelvis Your Magnificent Long Second Metatarsal Take Good Care of Your Back 18 Points on Natural Skin Health and Transdermal Toxicity Summary of Research on Water Eat Raw Protein Daily Adrenal Fatigue and The Safe Uses of Cortisol Health Professionals, How does Bowen Therapy/Fascial Kinetics Work? The Life of Vincent Priessnitz by Richard Metcalfe
(With help I edited and republished it incorporating additional chapters on modern hydrotherapy research which I authored.)
Every Breath You Take
(Published in Australian Wellbeing, article about Negative Air Ions and health.)
License Number
AHPRA Registration #CMR0001711496
48 Sunvalley Crt, Guanaba, 4210
12/58 Railway St, Mudgeeraba, Qld, 4213
Queensland,
Australia
tel. +61 423 647 666 (day)

Hours of operation / Fees
Clinic hours are below.
Exceptions need to be arranged with Kyle personally.
                 Guanaba
Mon      9.30 am – 5.30 pm
Tues     9.00 am – 12.00 pm
Weds    9.30 am – 5.30 pm
Thurs    9.00 am – 12.00 pm
Fri         9.30 am – 5.30 pm
Sat        8.30 am – 12.30 pm

         Mudgeeraba

Tues  1.00 pm – 7.00 pm

Thurs 1.00 pm – 7.00 pm

To BOOK AN APPOINTMENT
Please use my mobile phone, email, or my online portal:
Online Booking Portal Link
CANCELLATION POLICY
You can cancel your appointment using the portal, or by SMS, phone, or email, as long as it is more than 24 hrs before the scheduled appointment time.
Cancellations desired less than 24 hrs before the scheduled appointment time may attract a full-fee charge
and will need to be arranged directly with Kyle on 0423 647 666.
SESSION PRICES AND GUARANTEED MINIMUM TIMES
are currently: $95 for 50 mins (single-length), or
$190 for 1 hr and 50 mins (double-length).
Depending on multiple factors your clinician may extend the session to 1 hr or 2 hrs respectively for no extra charge. Sessions that go longer by mutual consent will be charged prorata.
Driving directions
The
Guanaba
location is 48 Sunvalley Crt, Guanaba. It is approximately a 15 minute drive inland from the section of Pacific Hwy that is adjacent to Movieworld, in the foothills at the base of Mount Tamborine. During sustained wet weather it may be important to plan to use Kriedeman Rd to guarantee vehicle access. Peacocks, children and other animals may be on the driveway so please drive slowly. The neighbour prefers that you not interact with her animals. The preferred parking area is the concrete area before the green shed. The clinic is located underneath the first building. There is a roundabout past the green shed for ease of turning. ---------------------------------------------- The
Mudgeeraba
location is 12/58 Railway St, Mudgeeraba. It is still located in Bodywork Evolution, above European Kitchen shop and Vinnies (of St Vincent de Paul) in Mudgeeraba Shopping Village. It is very close to the M1 and the Robina train station is not far away. It is situated on the second level of the building. From Railway St footpath, you would enter into the Shopping Village with Harcourts on your left and European Design Kitchen on your right. Walking straight ahead you would see a staircase. If you go to your left at the top of the stairs a few doors down on the right will be us. To avoid confusion, above the entrance door is number "12".   The waiting area is straight ahead to the right at rear of the entrance room. My room is straight ahead to the left at rear of the entrance room. To go to the toilet, continue straight on to the end of the walkway, instead of turning right into the clinic entrance door. Just past the toilet is the rear stairs access to the short-term section of the shopping centre carpark. ---------------------------------------------- To
BOOK AN APPOINTMENT
Please use my mobile phone, email, or my online portal:
Online Booking Portal Link
Available for patients
Case studies, easy to understand explanations about the CranioSacral System, Visceral Manipulation, products to use between sessions, and much more.