About
Jon Schauer was born and raised in North Dakota. Since a young age, he has had a passion for understanding healing and the ability to clearly communicate steps to follow to obtain lasting change.  
Jon traveled and taught prayer and healing throughout the US starting in 2004. 
Later he obtained Certification, Diplomate, and Master level training from Morter Health Systems in a specialized technique that balances triggers and stressors in the nervous system. He continued to obtain his massage license from Josef's School of Massage. Then immediately following, he took Cranial Sacral training from the Upledger Institute, including CS1, CS2, UMAC1, UMAC2, and UMAC3. 
He has studied myofascial release extensively to assist individuals with chronic pain relief that stems from holding patterns in connective tissue. He completed a specialized two-year resident training course with Andrea Grigsby NCTMB, a soft tissue release expert. He also studied additional Myofascial Release techniques and content from Dr. Barnes and several other nationally known authors and therapists.
Jon has a passion for assisting people with their health and wellness goals. He takes time to learn about the client and their priorities. He listens to the body and gives a customized session to every client he sees. 
My Skills
Listening, observing patterns, and designing a comprehensive yet simple treatment strategy is one of Jon's greatest strengths.
Professional Associations / Memberships
IAHP Medallion Member
Morter Health Systems Member
Certified B. E. S. T. Practitioner 
John F Barnes MFR - I, II, Unwinding
Structural Integration - ATSI I Completed (Meyers)
Trained Ashiatsu Therapist
Licensed Massage Therapist
Licensed Minister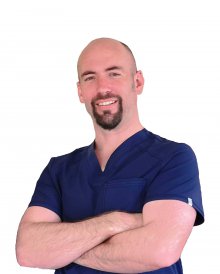 License Number
19175
216 N 14th St
Bismarck, ND 58501
Bismarck, North Dakota 58501
US
tel. 701.390.9239 (day)

Hours of operation / Fees
$107 for 60 minutes
$147 for 90 minutes
Visit https://1massageatatime.com for scheduling and more information.
Available for patients
Case studies, easy to understand explanations about the CranioSacral System, Visceral Manipulation, products to use between sessions, and much more. More information
Driving directions
Near St. Alexius Medical Center. Approximately two blocks east, off of Broadway, on N 14th st.