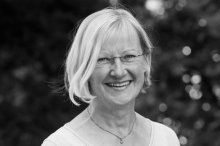 Iris Weschke
Iris Weschke
About Me
Since 1982 Iris Weschke (born 1958 in Essen) is a physiotherapist. She is also Gestalt therapist and alternative practitioner for psychotherapy, certified craniosacral therapist and trained in visceral and osteopathic techniques as well as in craniomandibular treatment and somatoemotional process work. She has also completed training as a Bobath Therapist and PNF Therapist, as well as in Integrative Exercise Therapy at the Fritz Perls Institute. For more than 25 years, Iris Weschke has been involved in neurological and cardiological rehabilitation at the Fachklinik Rhein-Ruhr. Since 2010 she teaches at the Upledger Institute Germany and also performs craniosacral therapy for horses. In 2013 she was awarded the certificate in manual osteopathic technique by the Osteopathie Gesellschaft Deutschland. Since 2017 alternative practitioner.
Holunderweg 23
Essen,
Germany
tel. +49.211.1640204 (day)

Available for patients
Case studies, easy to understand explanations about the CranioSacral System, Visceral Manipulation, products to use between sessions, and much more.