Karen Barker L.C.S.P.(Phys.)
L.C.S.P.(Phys.), R.M.T.,
Living in the Canadian Rocky Mountains of Alberta, Karen Barker enjoys her life as a therapist,writer,mentor,actress and mother. She draws on the beauty and experiences around her to teach others the art of peace and balance in their lives. Author of "Universal Stretches", "Spiritual Stretches", "The Wave of Change, 2012", "The Joy of Being" and an e-booklet "Gems for Healthy Living" she shares her growth through adversity to help inspire others. Karen spearheaded "Spotlight on Health" which featured fun and "easy to read" weekly health articles in the local newspaper for 3 years. The focus was to unite the community and educate in an user friendly way. Karen has put her energy into education and empowering her clients in the choice of complementary health care. She is an explorer when it comes to her own health issues and shares on her "You Tube" channel some cutting edge and ancient modalities. If you Google KarenBar99 on Youtube you can find her. Meditations and "Spiritual Stretches 7 minute workout", is a light fun video Karen created which explores the power of positive thought,vocalization and movement. In an easy 7 minutes. Helpful guided visualizations are also there as a "Healing Within" Series. her clients use daily. "Finding Rainbows" is a witty collaboration with Manchester artist Gary Donald. It can be found on my website as a free download along with various meditations. "Finding Rainbows" is a colorful guide to a successful hip replacement. It explores the power of the mind in the 3 stages of pre-op, hospital stay and post-op. My intention was to share with clients my personal journey, abating the fear factor of extensive surgery. "Transformations",Scars grace by Art is a recent art project exploring the healing journeys for 4 individuals who have undergone physical adversity and turned it into a forum of creative expression. Karen also co-hosts a radio program for the students in the Rocky Mountains of Canada Bow Valley, "Writer's Cramp" that can be listened to weekly on http://www.mountainfm.ca/morning-show/ Please access www.karenbarker.ca for more information.
My skills
Graduate of Northern Institute of Massage both basic and Advanced levels in 1991. 1996 Karen began her Qi Gong practice with teacher Dr. Stephen Aung, www.aung.com She now integrates this life changing focused meditative breath work with her clients. Post graduate upgrading since 1991 with Dr. Jean Pierre Barral,french osteopath, in Visceral and Neural Manipulation. www.barralinstitute.com This has been an amazing time of growth and joy learning alongside Jean Pierre and Alain Croibier. The new relationships they explore and share with me always benefit my clients. Deep Gratitude to you both. As of the fall of 2009, I enjoy assisting the core classes in Canada. Please see core classes on this site.
Articles & Books Written
"Inspiring Health In the Human Spirit" active Blog on Website..... "Universal Stretches with Meditation CD Journey into Clear Light", 2005 "Spiritual Stretches", 2006 "The Wave of Change,2012", 2006 "The Joy of Being", 2007 "Gems for Healthy Living" ebooklet,2007 "Finding Rainbows", Successful guide to hip replacement. ebooklet, 2010 "Transformations", Scars graced by Art, booklet 2011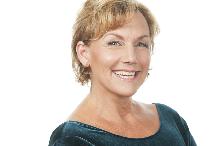 Professional Associations / Memberships
Full Member with the London County Society of Physiologists and the Remedial Massage Therapist Association.