About
Rainbow Ray's Healing Touch,LLC is a member of the Better Business Bureau, American Massage Therapy Association, The National Certification Board for Therapeutic Massage and Bodywork, an is licensed in Wisconsin & Illinois.
My personal experience seeing how CranioSacral Therapy has greatly benefited my own child.
CranioSacral Therapy helped my daughter with her Autism & Sensory Processing Disorders. There was a four year acedemic gain in her receptive speech in just two years treatment along with better sleeping & eating habits, social functions, there was an a improvement in her over all health. She's an adult now how drives, works & is currently a student in college.
CranioSacral Therapy helped me and my family in so many positive ways that I felt compelled to share this gift with the world. Touching lives, making a difference one person at a time.
My Skills
Since 2003 I've practicing massage therapy & trained to my master level in Reiki. Then continued my education in CranioSacral Therapy, SomatoEmotional Release, Pediatrics, Advanced CranioSacral Therapy, Chronic Depletion & The Brain Glial Interface. I'm also Certified in techniques in CranioSacral Therapy & a Certified Teaching Assistant with The Upledger Institute.
I have also been networking with an Occupational Therapist who specilizes in spectrum disorders with children since March 2003.
Since 2011 Rainbow Ray's has been servicing Northern Illinois working with Palliative care and Alzheimer's clientele.
Rainbow Ray's Healing Touch, LLC services include the following
1. CranioSacral Therapy
2. Multi-Hands Therapy
3. SomatoEmotional Release
4. Palliative Care
5. Out Call Services
A 2nd Therapist is available @ Rainbow Ray's Healing Touch, LLC
Bill Kleinhenz Call (608) 436-1191
Articles & Books Written
"An Answer To Your Pain" 2015 Rae of Hope
Cambridge Who's Who Directory 2007 & 2008
Professional Associations / Memberships
NCTMB - National Certification Therapeutic Massage & Bodywork.
AMTA - American Massage Therapy Association.
IAHP - International Association of Healthcare Professionals.
BBB - Better Business Bureau.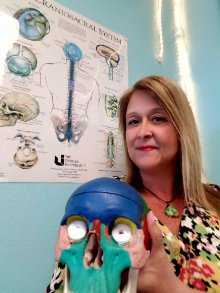 License Number
National #440660-00
WI-State #3523-046
IL-State#227.011497
AMTA # 174901
4539 Woodgate Drive Suite D(located inside Rock County CranioSacral Clinic) Janesville, Wisconsin 53546
USA
tel. 608-436-0118 (Office Massage) (day)

Hours of operation / Fees
Hours are by appointment only
T, Th & Fr in Janesville
$45.00 - 1/2 hr session
$75.00 - 1 hr session
$170.00 -1 hr Multi-Hands
$110.00 - 1 1/2 hr session
Available for patients
Case studies, easy to understand explanations about the CranioSacral System, Visceral Manipulation, products to use between sessions, and much more. More information
Driving directions
Janesville office I90 exit 171A
North on Hwy 26 (Milton Ave)
Turn right on McCormick, right on Braxton & left on Woodgate