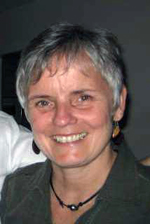 Judy M Russell
Physiotherapist BA (PE); BSc (PT); MCPA
About Me
I have been a physiotherapist for over thirty years and love what I do. My Bachelor of Arts Degree in Physical Education (1975) from the University of Western Ontario and my Bachelor of Science Degree in Physical Therapy from the University of Toronto (1978) gave me the building blocks for my career. Since that time, I have practiced my profession and continued advanced training in my areas of special interest including Orthopaedics, Sports Therapy, Therapeutic Exercise, Lymphatic Drainage, CranioSacral Therapy and Visceral Manipulation.

My level of expertise in sports physio, which includes a Diploma in Sports Physiotherapy (1986), has given me the opportunity to serve as the core medical staff in two Olympic Games (1984, 1988), two Pan American Games (1987, 2011) and the Commonwealth Games (1994). Since 2007, I have been a therapist for the Women's National Soccer Team and in that capacity I have traveled to over a dozen countries for many international events including the Women's Soccer World Cup in China (2007), the Olympic Qualifying Tournament in Juarez (2008) and the World Cup Qualification Tournament in Cancun (2011). I am looking forward to attending my third Olympics as core medical staff with this talented team in their pursuit of excellence in London, 2012.
Professional Associations / Memberships
International Association of Healthcare Practitioners (IAHP)
My skills
In addition to my private practice experience, I have also taught at Sheridan College in the Athletic training and Management Program (1981-1984) and was a lab assistant and instructor at the University of British Columbia in the School of Rehabilitation Sciences (1989-1992). I am a certified teacher (VMD) in the Visceral Manipulation Program offered by the Barral Institute (www.barralinstitute.com). I will continue my studies in this profound body of work developed by Jean-Pierre Barral, DO.

I have worked as a Registered Physiotherapist in private practice since 1985 in Vancouver. I was co-owner of Jericho Sports and Orthopaedic Physiotherapy Clinic (1987-2012).

I continue to practice physiotherapy in my areas of special interest and am very pleased to be joining Julia Sage at Sage Massage Therapy and Integrated Health. I enjoy treating individuals of all ages and a multitude of conditions. I believe the best tools a physiotherapist has are her hands and the focus of my studies reflects this approach.
105-2786 W 16th Ave
Vancouver, British Columbia
Canada
tel. 604.531.8080 (day)

Hours of operation / Fees
Opening hours Monday to Saturday 8am-8pm