About
Hi, I'm Dorian Heather Brown. I began my Holistic Healing practice in 2010, leaving behind a stressful and joyless work life. I was sick and tired of being- well you know- sick and tired. Now I show up for work enthusiastic and renewed each day. I am so excited to bring the gift of wellness and healing to you! 
 
I offer a unique blend of tools to help you become grounded, centered, and connected… connected to the world around you, and more importantly, connected to yourself. Together, we set the framework to safely address the residual effects of traumas, injuries, illnesses and surgeries carried in your body. I work with you to bring your body back to physical and emotional balance. From this place of homeostasis, healing can occur.

Sessions include a combination of CranioSacral Therapy, Reflexology, Aromatherapy and Integrative Energetic Medicine. These powerful tools can relieve the stress and pain that bring dis-ease to the body. You will leave each session feeling rejuvenated and restored. 
*I now offer Distance Healing From the Core TeleHealth sessions. 


​I believe in the healing available from these modalities because I have personally received deep healing from each. I have an ongoing commitment to my own personal exploration and growth. I frequently attend classes to continue my healing process, expand my knowledge, and to bring back the most current resources for your growth and wellness.


I am certified in Energetic Healing and Integrative Reflexology®, and am wrapping up my certification in CranioSacral Therapy. I am also an Upledger Institute Teaching Assistant for CranioSacral Therapy.

My Skills
➢CranioSacral Therapy 
➢Reflexology 
➢Aromatherapy 
➢Integrative Energetic Medicine
➢Distance Healing From the Core
 
Professional Associations / Memberships
Medallion Member of International Association of Healthcare Practitioners (IAHP) 
International Association of Healthcare Educators (IAHE) 
The American CranioSacral Therapy Association (ACSTA) 
Friend of Craniosacral Therapy Association (CSTA)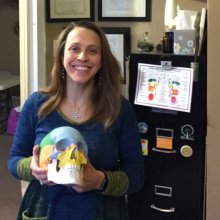 🌀PEBBLE IN A POND HOLISTIC HEALING
3052 Valley Ave, Suite 200
Winchester, Virginia 22601
United States
tel. 540.550.7606 (day)
tel. 540.550.7606 (evening)

DoriansPebbleinaPond@gmail.com
Hours of operation / Fees
$90/session 
Monday - Friday 

 Schedule appointments on my website
Available for patients
Case studies, easy to understand explanations about the CranioSacral System, Visceral Manipulation, products to use between sessions, and much more. More information
Driving directions
Located in the Opequon Center which is directly across the street from Creekside Station.
It's easy to get to by driving through town on Route 11 (Valley Ave) or by taking Route 81 exit 310 and heading north on Route 11, or by taking the Kernstown exit off of Route 37 and heading north on Route 11.