About
Tyler was born and raised in Southeast Georgia but has been a proud member of the Frederick, Maryland community since 2002.  
Graduating from Baltimore School of Massage in 2004, Tyler went on to complete his Associate of Arts degree in Therapeutic Massage from Frederick Community College graduating with High Honors.  Since that time, Tyler has continuously engaged in educational growth, acquiring over 500 hours of combined specialized training in Craniosacral Therapy,Visceral Manipulation, and Neural Manipulation alone!  After two years serving as an Instructor at the Central Maryland School of Massage, Tyler shifted full-time to growing his full-time private practice.  He is well known in the community and has a a devoted client base who continues to reap the benefits from his passion for learning.
After 17 years of practice Tyler continues to build upon his technical understanding of the human body and incorporate new learnings into treatment plans for his clients.  With a base of operation in Frederick, he serves clients in and around the DC/Baltimore Metro area with varying needs. When not in the office, Tyler often participates as a Teaching Assistant for classes run by the Upledger and Barral Institutes.
My Skills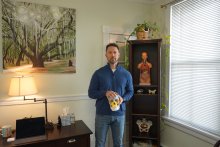 License Number
M04599
245 West Patrick Street
Suite 2
Frederick, MD 21701

tel. 443-813-2413 (day)

Hours of operation / Fees
New Client Evaluation/Treatment:  75-minute session - $110
        (Includes a Visceral/Neural/Craniosacral evaluation and client-therapist discussion on goals and treatment approach followed by treatment session)
Established Client: 60-minute session - $100
Hours

: Monday - Friday 9am-6pm by appointment only
Driving directions
Located on the first floor of 
Delta Holistic Therapy Center at:
245 West Patrick Street
​Suite 2
Frederick, MD 21701
(443) 813-2413

Free off-street parking is available.  Turn right into the first driveway after our building (there are three row houses before the turn).  Turn right again to enter our lot.  Park only at one of the signs designated 243-245 West Patrick Street or you may be towed.  From this lot, walk around the right rear of the Carriage house building until you come to a brick walkway. This will take you to the front entrance of 245 West Patrick.

​On-street metered parking is available if these spots are taken. We are also conveniently located near downtown Frederick and are .2 miles from the West Patrick Street parking garage adjacent to the Frederick County Courthouse.  ​