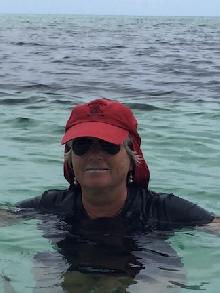 Miranda Warburton
Ph.D., LMT, CST-D
About Me
Miranda began studying Traditional Chinese Medicine with particular emphasis on Jin Shou TuiNa in 1989. From 1988 to 2002 her primary employment was as an Anthropologist for the Navajo Nation. In 2002, she changed her life's direction and entered the Healing Arts full time. Miranda is a graduate of Northern Arizona Massage Therapy Institute (NAMTI) in Sedona, AZ (840 hour program). After teaching Traditional Chinese Medicine, Intro to CranioSacral Therapy, and Thai massage at NAMTI for six years, she moved to California and practiced at 6 Harmonies Traditional Medicine in Saratoga, CA for 7 years. Miranda has moved back to Arizona and has a practice in Sedona. Her practice focuses on CranioSacral Therapy including SER work, and Tuina (see below).

She has completed CS1, CS2, SER1, SER2, Advanced CST1, Advanced CST2, Advanced CST3, and Advanced BioAquatics through the Upledger Institute.

Miranda also teaches Intro to CranioSacral Therapy and the Bioaquatics curriculum (BAEC, BAES, BAER). Since 2005 she has been a Primary Therapist in the Upledger Institute/Integrative Intentions Dolphin Assisted Therapy Program in the Bahamas and other Comprehensive Therapy Programs run jointly by Dr.Chas and Kat Perry of Integrative Intentions and the Upledger Institute. Martial Arts: Miranda began training Tai Chi Chuan and the Chinese Internal Martial Arts of Hsing-I and Bagua in 1989 with the North American Tang Shou Tao Association. In 2010 she began training Sun Lutong Style Tai Chi, Hsing-I and Bagua with Sifu Wing Lam of Sunnyvale, Ca. Miranda teaches Sun Style Tai Chi in Sedona.
Professional Associations / Memberships
Founder/Director of Rising Dragon Kung Fu
Co-founder with Jennifer Minor of 6 Harmonies Traditional Medicine,6 Harmonies Gong Fu, and 6 Harmonies - Sedona
My skills
CranioSacral Therapy:
CranioSacral,SomatoEmotional Release, Dolphin Assisted/Bioaquatic CST.

Traditional Chinese Medicine:
Jin Shou TuiNa,
Auricular Therapy.

Massage Therapist:
Thai Massage,
Connective/Deep Tissue,
Hot Rock Massage.
Articles & Books Written
Article: Achy-Breaky Art: The Historical Development and Contemporary Practice of Tuina - coauthored with Jennifer Minor and H. Vincent Black. IN Bonesetters: A Cross-Cultural Primer for Manual Medicine edited by Kathryn Oths and Servando Hinojosa. 2004. AltaMira Press
License Number
NCBTMB 410868-00; AZ MT-21793; CA #42953
6 Harmonies - Sedona
2155 Highway 89A, Plaza West Mall, Suite 111
Sedona, Arizona 86336
USA
tel. 928.606.4464 (day)
tel. 928.606.4464 (evening)

Hours of operation / Fees
9:00 - 4:00 Monday - Friday, or by Appointment. $115.00/session
Driving directions
6 Harmonies - Sedona is located at 2155 Highway 89A, in the Plaza West Mall, Suite 111. Suite 111 is located on the west side of the building (facing the Wells Fargo Bank).