About
Marty Austin, MS,LMT,CST,NMT,MLD is a Nationally Certified Massage Therapist and a member of AMTA and the National Lymphedema Network She specializes in Chronic Pain managementand Medically related therapy.
My Skills
Marty is certified in:
CranioSacral Therapy
Russian Medical Massage
Neuromuscular Therapy
Manual Lymphatic Drainage/Complete Decongestive Physiotherapy (Vodder technique).
Pregnancy Massage
Professional Associations / Memberships
AMTA:American Massage Therapy Association
IAHP:International Association of Health Practioners
NLN:National Lymphedema Network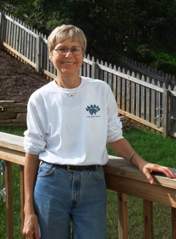 License Number
State of TN #132
815 Claybrook Ct. Knoxville, Tennessee 37923
USA
tel. 865 691-1565 (day)
tel. 865 691-1565 (evening)
fax. 865 691-3160
Hours of operation / Fees
Monday-Friday 9:ooam to 6:30pm
Therapeutic fee for 1 hour: $90.00
Therapeutic fee for 1 1/2 hour: $120.00
Therapeutic fee for 1/2 hour: $60.00
Driving directions
Marty's office is located at 220 South Peters Road, Suite 105, in Knoxville, TN. Take Cedar Bluff Exit off I40. Take Cedar Bluff to Kingston Pike and turn left. Follow Kingston Pike to South Peters Road and turn right. Two professional buildings beyond the Walgreens complex look for a large blue and white sign "Bacon-Howard & Associates" on the left side of the street. Turn into the parking lot. Her office is in the back of the two buildings. Look for the dumpster and turn left.