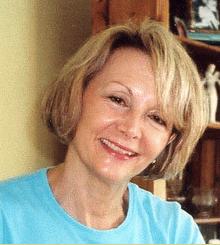 The Upledger Institute Clinic
11211 Prosperity Farms Rd
D223
Palm Beach Gardens, Florida 33410
USA
tel. 561 622-4706 (day)

Hours of operation / Fees
Appointments: Our hours are weekdays from 8AM to 7PM Monday through Thursday, 8AM to 6PM Friday, and 9AM to 1PM Saturday, (ET). To make an appointment, call 561-622-4706.
Driving directions
Getting Here: The Upledger Institute is located at 11211 Prosperity Farms Road, Suite D-223, in Palm Beach Gardens, Florida. From I-95, take PGA Boulevard east; or from the Florida Turnpike, take Exit 109 (Palm Beach Gardens). From there, go east on PGA Boulevard to Prosperity Farms Road. Turn right. Within 2/10 of a mile, you'll see on the right a red entrance marker and the 11211 address. Turn here. From the entrance, proceed to the office complex on the left (Bldg. D). We're on the second floor. An elevator is available for your convenience.
Lee Nugan
M.A.
Lee Nugan received her bachelor's degree from Vanderbilt University and her master's degree in psychology from the University of Sydney in 1974. Yet much of her early life was spent studying the piano, and she performed in concerts for many years.
Before beginning a career in psychology, she taught school in both the U.S. and Australia. She completed a professional training program under the direction of Dr. John Heider, author of The Tao of Leadership. Ms. Nugan has also had specialized training in meditation, yoga, play therapy, biofeedback therapy, psychosynthesis, guided imagery and sandplay therapy.
Ms. Nugan joined The Upledger Institute in 1984, where she continues to work with clients of all ages. She is certified instructor of SomatoEmotional Release 2 workshops and the developer of the Spirituality and Healing course, which is based on the principles from A Course in Miracles. She has taught these workshops in both the U.S. and Europe.
My skills
* Master's Degree, Psychology, University of Sydney
* Certified Instructor, The Upledger Institute
* Program Director, Spirituality and Healing
Professional Associations / Memberships
* Member, International Association of Healthcare Practitioners