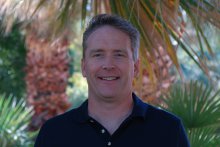 Jeremy Kuecks
LMT, CSP
About Me

I had the good fortune of growing up in rural Wyoming. Fresh air, clean water, blue skies and lots of nature. I was outdoors every chance I had, camping, hiking, canoeing, doing kid stuff. My endless hours outside and the change of seasons Wyoming offered helped me to have a strong connection to rhythm and energy of Mother Earth. I call it our connection to Heaven and Earth. The earth has endless beauty, and she wastes nothing. All is part of the most efficient recycling system ever created. It is only when we as men get involved that the cycle is broken.
How true this is for us as well. I have learned that each of us has our own microcosmic rhythm and energy mirroring Mother Nature's. I call it the body's life cycle. It self corrects without much help from us and works well. It is only when outside influences create issues in our tissues that the body's life cycle is disrupted causing discomfort and disease.
I have discovered through my connection to Heaven and Earth and my own body's life cycle that energy is all around us, through us and through our loved ones. My own journey started early on in my childhood and has brought me through many wonderful experiences. Just like you some of these experiences have been amazing and some have left me less than whole. By learning and applying valuable skills from Foot Zone Therapy, Reiki, Thai Massage, Qigong, Yoga and CrainoSacral Therapy I have been able to heal and reboot my body's life cycle. I am blessed to be able to work with wonderful people helping them find ways to reboot their body's life cycle and reconnect to Heaven and Earth.
Professional Associations / Memberships

International Association of Healthcare Practitioners IAHP Medallion member
American Massage Therapy Association AMTA
International Center for Reiki Training
My skills
CST1, CST2, SER1, Merciér Therapy, Shared Journey Fertility Program
License Number
291735-4701
308 East 4500 South, Suite 280
Murray, UT 84107
United States
tel. 801-637-6658 (day)

Hours of operation / Fees
HOURS
Mon: 10 am - 3 pm
Tues: 2 pm - 8 pm
Wed: 2 pm - 8 pm
Thurs: 10 am - 3 pm
Fri: By Appointment Only
Available for patients
Case studies, easy to understand explanations about the CranioSacral System, Visceral Manipulation, products to use between sessions, and much more.