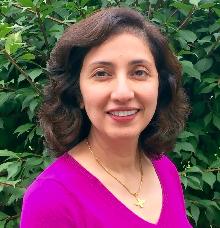 Binaifer Bugli
PT, CST-D
About Me

Binaifer earned her degree in Physical Therapy in 1990 from the Bombay University, in India. She is a licensed Physical Therapist in the state of Michigan; working in an outpatient multidisciplinary clinic at St John Providence Health system, in Novi. Binaifer has been a CranioSacral Therapy practitioner since 1996 and currently holds a Diplomate (advanced) level certification in CranioSacral Therapy from the Upledger Institute. She is a Clinical Instructor & mentors students enrolled in PT and PTA programs; conducts lectures / presentations for the community and other professionals in CST, Falls Prevention and Vestibular Rehabilitation. Presently, she is an instructor with the Upledger institute and is certified to teach CST I & CST for Pediatrics I. Binaifer works with a mixed population of clients, from newborns to geriatrics, presenting a variety of orthopedic and neurological complaints. In addition to CranioSacral Therapy her treatment approach incorporates various forms of Manual Therapy techniques. While integrating her CranioSacral work, with a variety of traditional and complementary techniques, she puts a strong emphasis on patient education, and the development of individually designed treatment programs.
Professional Associations / Memberships
International Association of Healthcare Practitioners
My skills
Physical Therapist
Certified Instructor, The Upledger Institute: CS1
Certified in CranioSacral Therapy-Diplomate level (CST-D)
Certified Presenter for ShareCare, Overview and Introduction to CST
Certified in Vestibular Rehabilitation
NeuroDevelopmental Techniques
Manual Therapy (Various Techniques)
License Number
5501005989
26850 Providence Parkway
Suite 163
Novi, MI 48374
United States
tel. 248.739.9626 (day)

Driving directions
The Providence Park Hospital campus is located at the southwest corner of the intersection of Beck Road and Grand River Avenue in Novi. This is exit 160 off of the I-96 freeway. Providence Park Outpatient Rehabilitation Services is located in the Medical Office Building on the first floor in Suite-163.
Available for patients
Case studies, easy to understand explanations about the CranioSacral System, Visceral Manipulation, products to use between sessions, and much more.