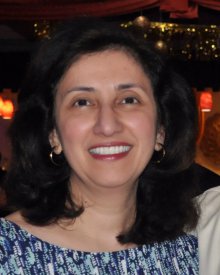 Binaifer Bugli
PT, CST-D
About Me

Binaifer earned her degree in Physical Therapy in 1990 from Bombay University, in India. She is a licensed Physical Therapist in the state of Michigan. She has worked in acute care, inpatient rehab and outpatient multidisciplinary clinics at St John Providence (Ascension) Health system, in Southfield & Novi for 25 years. Currently she is working in collaboration with neuro otolaryngologists / skull base surgeons at Michigan Ear Institute (MEI), as clinical director of  "Fyzical" (physical) therapy clinic specializing in Vestibular & Balance Rehabilitation, Dizziness & Falls prevention, CranioSacral Therapy (CST) and also integrating other highly skilled, customized services. She emphasizes using a holistic approach, focusing on quality outcomes to help you achieve your goals in decreasing pain & improving functional abilities. 
Binaifer has been a CranioSacral Therapy practitioner since 1996 and currently holds a Diplomate (advanced) level certification in CranioSacral Therapy from the Upledger Institute. She is a Clinical Instructor & mentors students enrolled in PT and PTA programs; conducts lectures / presentations for the community and other professionals in CST, Falls Prevention and Vestibular Rehabilitation. Presently, she is a certified instructor with the Upledger institute and teaches CST I & CST for Pediatrics I internationally. 
Binaifer works with a mixed population of clients, from newborns to geriatrics, presenting a variety of orthopedic and neurological complaints. In addition to CranioSacral Therapy her treatment approach incorporates various forms of Manual Therapy techniques. 
While integrating her CranioSacral work, with a variety of traditional and complementary techniques, she puts a strong emphasis on patient education, and the development of individually designed treatment programs.
Professional Associations / Memberships

American Physical Therapy Association, Michigan Physical Therapy Association, International Association of Healthcare Practitioners, International Alliance of Healthcare Educators
My skills
Physical Therapist
Certified Instructor, The Upledger Institute: CS1
Certified Instructor, The Upledger Institute: CSP1
Certified in CranioSacral Therapy-Diplomate level (CST-D)
Certified Presenter for ShareCare, Overview and Introduction to CST
Certified in Vestibular Rehabilitation
NeuroDevelopmental Techniques
Manual Therapy (Various Techniques)
License Number
5501005989
30055 Northwestern Highway
East Entrance, Suite # 105
Farmington Hills, MI 48334 -3260
United States
tel. 248.865.4148 (day)
tel. 248.739.9626 (evening)
fax. 248.865.4129