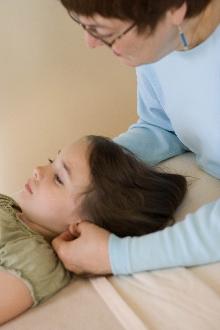 CranioSacral Therapy - Hypnosis
License Number
Ohio #9747
North Carolina #6245
NCBTMB #290055-00
Location:
CMC Complex
10921 Reed Hartman Highway
Suite 104D
Blue Ash, Ohio 45242
USA
tel. 513-309-2951 (day)
tel. 513-309-2951 (evening)

Hours of operation / Fees

Hours by appointment. Call for fees. Cash, check, major credit cards accepted.

Clients coming for CranioSacral Therapy: to be exempt from 6.5% sales tax, you may bring a prescription from a physician, osteopath, chiropractor or dentist for CranioSacral Therapy or Bodywork.
CranioSacral Therapy - Hypnosis
Anita Phillips, LMT, NCTMB, CCH
I am a licensed massage therapist with an office in Blue Ash, Ohio--a northern suburb of Cincinnati. My clients are adults and children who are seeking relief and relaxation with CranioSacral Therapy. In addition to CranioSacral Therapy, I may also utilize Lymph Drainage Therapy, Visceral Manipulation, Healing Touch and Reiki in my sessions.

CranioSacral Therapy, as developed and taught by the Upledger Institute, is a gentle, light-touch manual therapy. It is performed with the client fully-clothed on a comfortable massage table in a private room with soothing music. As a CranioSacral Therapy practitioner, I work with the body's self-correcting mechanisms to release restrictions and to relieve pressure in the CranioSacral System--which maintains the health of the central nervous system.

CranioSacral Therapy has been shown to alleviate: migraines/headaches, stress/tension, sinus problems, neck and back pain, chronic fatigue/fibromyalgia, temporomandibular joint (TMJ) dysfunction, emotional difficulties, learning difficulties--plus many other conditions.

I am also a Certified Consulting Hypnotist through the National Guild of Hypnotists and a practitioner of Holographic Memory Resolution—a new technique for releasing and resolving memory-based pain—physical or emotional--without having to "relive" or change the associated memories.

For a free, 15-minute consultation, give me a call at (513) 309-2951.


What clients have said about CranioSacral sessions…
I have severe scoliosis and have tried a variety of massage techniques with little success. CranioSacral Therapy with Anita has been nothing short of miraculous in providing me with sustained pain relief. I even feel inches taller after a session. - Ann C.
With regular CranioSacral treatment, I have found relief from chronic migraines. - Donna H.
As a survivor of childhood abuse, I've realized that my body remembers the abuse, sometimes more than my mind. CranioSacral Therapy and energy work with Anita have helped me to release these memories and to heal. - Jackie B
It is so wonderful to feel the lasting healing effects of this light touch therapy on my body, soul, and emotions—not just from treating symptoms, but also the source of those symptoms. - Wendy S.
Each session takes me on a journey...where time does not exist. All my senses seem heightened after a session. It is a perfectly healthy alternative for an "energy drink." It feels as though my mind received a massage, not just my body. - Jamee J.
My experience of a CranioSacral session with Anita was supreme: Through her intuitive approach Anita guided me to a space within me, which was a joy to experience: timeless, with colors, shapes and forms, a state of heightened awareness. The peacefulness after the session lasted for several days and is still ongoing.... - Doris Molitor, CH CYT, Tri-State Hypnosis Center, Cincinnati.
My skills

Upledger Institute: Advanced CranioSacral Therapy; CranioSacral Therapy Level I, II; CranioSacral Therapy for Pediatrics; SomatoEmotional Release Levels I, II; Teaching Assistant for CranioSacral Therapy Levels I & II and SomatoEmotional Release Levels I & II; CranioSacral Therapy Technique Certification Preparation; Advanced I Lymph Drainage Therapy; Lymph Drainage I, II, III; Teaching Assistant: Lymph Drainage I; Brain Tissue, Nuclei, Fluid & Autonomic Nervous System; Brain Tissue, Nuclei, Fluid & Reticular Alarm System; Brain Tissue, Nuclei, Fluid & Peripheral Nervous System; Brain Tissue, Nuclei, Cranial Nerves & Ganglia; The Brain Speaks; Healing from the Core: Grounding & Healthy Boundaries; Beyond the Dura 2008
Barral Institute:Visceral Manipulation: Abdomen I; Visceral Manipulation: Abdomen II
Other Training: Healing Touch, Levels I, IIA, IIB; Healing Touch for Babies; Usui System of Natural Healing: Reiki I, II, Reiki Master/Teacher and Karuna Reiki Master; Traditional Japanese Reiki, First and Second Degrees; From Both Sides of the Table: Managing Fibromyalgia; Integrative Myoneural Therapy: Cervical & Temporomandibular Joint Dysfunction; Energy Medicine: The New Paradigm with Rosalyn L. Bruyere; Kundalini Awakening Intensive with Susan Carlson; Awakening Healing Light with Robert Peng; Internal Family Systems Introductory Workshop with Richard Schwartz; Healing Trauma in Bodymind & Spirit with Brent Baum; Holographic Memory Resolution, Levels I, II & III with Brent Baum
Professional Associations / Memberships

The State of Ohio State Medical Board, Limited Practitioner's Certificate Number 9747
North Carolina Board of Massage & Bodywork Therapies Licensed Massage and Bodywork, License Number 6245
National Certification Board for Therapeutic Massage and Bodywork, National Certification Number 290055-00
International Association of Healthcare Practitioners, Medallion Member
American CranioSacral Association
National Guild of Hypnotists