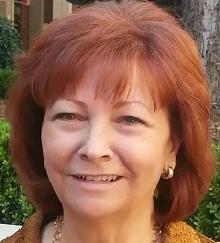 Gloria Flores
CMT, CST-D
About Me
At Burbank CranioSacral Therapy I specialize in CranioSacral Therapy to help people with conditions such as Chronic Neck & Back Problems, TMJ, Depression, Anxiety, Tinnitus, Auto Accidents, and Chronic Pain Syndromes. My clinical experience includes providing CranioSacral Therapy to Military Veterans with PTSD and Traumatic Brain Injuries at the Wellness Works Military Veteran's Clinic in Glendale, CA, where I worked as a clinic volunteer for over seven years. My professional goal is to create a safe, soothing atmosphere to facilitate your healing journey. Some of my clients have generously shared their session results here: Check out Burbank Craniosacral Therapy on Yelp
I teach introductory level CranioSacral Therapy workshops to professional health care providers and the public. Please see my web site for my schedule of upcoming classes.
Professional Associations / Memberships

American Association of Drugless Practitioners - Board Certified Holistic Health Practitioner (HHP)
CA Massage Therapy Council - CA State Certified Massage Therapist
National Certification Board for Therapeutic Massage & Bodywork (NCBTMB) - Board Approved Continuing Education Provider
FSHLB - Licensed Spiritual Health Coach
SelfGrowth.com - Alternative Medicine Author
UCLA - HIPAA Certified Healthcare Provider
The Heart Touch Project - Compassionate Touch Hospice Therapist
My skills
Upledger Institute Techniques & Diplomate Certified Therapist
Upledger Certified IAHE Mentor for CranioSacral Therapy
Upledger Certified Teaching Assistant
Upledger Approved Study Group Leader (for Upledger students)
Upledger Institute Certified Presenter of:
ShareCare (SCIN) - 3 hour Workshop
CranioSacral Therapy Overview (CSTO) - 6-hour, one day Workshop
CranioSacral Therapy Introduction (CSTI) - 12-hour, two day Workshop
Articles & Books Written
Some of my published articles on CranioSacral Therapy, are on my Practitioner Profile page at: SelfGrowth.com
Links to more of my published articles on CranioSacral Therapy for specific conditions can be found on my website.
License Number
CA State CMT #23263
Spiritual Health Coach Lic.#1263
Burbank Craniosacral Therapy
10000 Riverside Dr., Suite #17
Burbank/Toluca Lake, CA 91602

tel. 818.919.3363 (day)

Hours of operation / Fees
Wednesdays and Saturdays BY APPOINTMENT ONLY
$100 - 60 minute session
$145 - 90 minute session

First Visit Includes:
*Initial Consultation
*Educational Materials
*Referrals as necessary

Mentoring for CST Therapists:
$50 per hour for phone or in-person mentoring
Driving directions
Corner of Ponca Ave. and Riverside Drive. Across Riverside from Paty's restaurant, and across Ponca from Chase Bank. Enter the building at the door near the building directory on Ponca Ave. Suite #17 is upstairs.
---