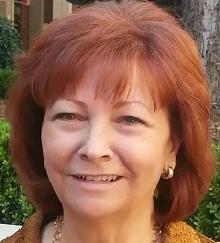 Gloria Flores
CST-D
About Me
I believe in the innate intelligence of the human body, and in it's immense capacity for change. My therapeutic goal is to help you facilitate the changes that your body, mind, and spirit are ready for. CranioSacral Therapy helps people feel more centered, balanced, and better able to respond to stressful situations with calmer, more focused energy. The results from your session are long-lasting and many times permanent, since the changes you experience come from your own system.
My clients include people with Chronic Neck & Back Pain, TMJ, Depression, Anxiety, Car Accidents, and Falls. I have extensive clinical experience working with Military Veterans with PTSD and Traumatic Brain Injuries at the
Wellness Works
Military Veteran's Clinic in Glendale, CA. As a volunteer with The Heart Touch Project in Santa Monica, CA, I have clinical experience working with people in nursing homes and with hospice patients. Find out what my clients have to say about their experiences with CranioSacral Therapy by clicking on this link:
YELP
In addition to specializing in CranioSacral Therapy, I teach simple, easy-to-learn CranioSacral skills to parents with special needs children, care givers, healthcare professionals, and the general public. I have taught CranioSacral Therapy at local Massage Schools, Holistic Healing Centers, and at Glendale Community College. My next 2-day Introduction to CranioSacral Therapy workshop is scheduled for January 10-11, 2015, in Glendale, CA. Feel free to email me at craniosacralcare@yahoo.com for a class flyer and registration form, or you can register here:
CranioSacral Therapy Introduction in Los Angeles
This class is open to the public. Fee: Early Registration -
$250
. Registrations after December 10, 2014 -
$300
.
Professional Associations / Memberships
International Association of Healthcare Educators (IAHE)
International Association of Healthcare Practitioners (IAHP)
American Association of Drugless Practitioners (AADP)
National Certification Board for Therapeutic Massage & Bodywork (NCBTMB)
Federation of Spiritual Health Coach License Board (FSHLB)
My skills
Upledger Institute
Techniques & Diplomate Certified Therapist
Certified Teaching Assistant
Approved Study Group Leader (for Upledger alumni)
CranioSacral Therapy Promotional Sponsor
Certified Presenter of:
ShareCare (SCIN) - 3 hour Workshop
CranioSacral Therapy Overview (CSTO) - 6-hour, one day Workshop
CranioSacral Therapy Introduction (CSTI) - 12-hour, two day Workshop

American Association of Drugless Practitioners - Board Certified Holistic Health Practitioner (HHP)
CA Massage Therapy Council - CA State Certified Massage Therapist
FSHLB Licensed Spiritual Health Coach
U.S. Institute for Inner Studies - Advanced Energy Medicine Practitioner
SelfGrowth.com - Alternative Medicine Author
NCBTMB - Approved Continuing Education Provider for Craniosacral Therapy
UCLA HIPAA Certified Healthcare Provider
Articles & Books Written
For a partial list of my published articles on CranioSacral Therapy, please see my Craniosacral Therapy Practitioner Profile page at: SelfGrowth.com
A more extensive list of my published articles can be found on my website.
License Number
Spiritual Health Coach #1263
CA State CMT #23263
NCBTMB Provider #451863-12
Burbank Craniosacral Therapy
10000 Riverside Dr., Suite #17
Burbank/Toluca Lake, CA 91602

tel. 818.919.3363 (day)

Hours of operation / Fees
By Appointment Only
$100 - 60 minute session
$145 - 90 minute session

First Visit Includes:
*Initial Consultation
*Educational Materials
*Referrals as necessary

I Accept Cash, Checks, & Credit Cards