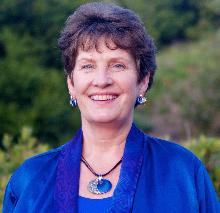 Suzanne Scurlock-Durana
CST-D, CMT
About Me
The Healing From the Core courses and audio series were developed by Suzanne Scurlock-Durana, CST-D, CMT. She has been teaching and mentoring in the area of conscious awareness and its relationships to the healing process for over twenty years. Since 1986, she has been a certified instructor of CranioSacral Therapy and SomatoEmotional Release training with the Upledger Institute, nationally and internationally, currently teaching CAAD, CACS, CASR, CS1, CS2, CSIR and SER1.

She is author of the highly acclaimed book, "Full Body Presence: Learning to Listen To Your Body's Wisdom" as well as several other works, including the chapter "Developing Therapeutic Presence", within Complementary Therapies and Wellness: Practice Essentials for Holistic Healthcare and numerous articles for Massage Magazine. She is currently working on her highly anticipated second book, which delves deeper into the intelligence of the human body.

For almost two decades, Suzanne collaborated annually with Emilie Conrad, integrating Continuum movement and healing presence. She also provides ongoing staff development training at Esalen Institute and is a well-known and sought-after speaker in this field.

She is expert at teaching the integration of right and left brain knowing, and what it takes to feel fully alive in today's world. In particular, she loves weaving together the mind, body, and spirit to create an environment where healing can occur for all involved. Known for her grounded, direct, nurturing way of assisting others in going to the heart of their healing process, where deeper healing begins, Suzanne draws on a wealth of experience as a teacher and therapist, mother and wife, and generously shares from all areas of her life.
My skills
Author: Full Body Presence: Learning to Listen to Your Body's Wisdom

Developer: Healing From the Core curriculum

B.A.-Psychology, Eckerd College
Diplomate-CranioSacral Therapy
Certified Massage Therapist

Articles & Books Written
"Full Body Presence: Learning to Listen to Your Body's Wisdom" second edition published in 2010. Available on Amazon.com.

Numerous articles for Massage Magazine.

"Developing Therapeutic Presence", chapter within Complementary Therapies and Wellness: Practice Essentials for Holistic Healthcare

Audio Series
Healing From the Core: A Journey Home To Ourselves
Healing From the Core: Release & Renewal
Healing From the Core: Basic Relaxation & Energizing Techniques

DVD Series with Emilie Conrad
2012 Presence & Touch
2011 Cellular Resonance
2010 Moving Consciousness
2009 Waves of Consciousness
2008 The Undiscovered Body
2007 The Quantum Brain
2006 The Essence of the Heart
2005 The Immune System II
2004 The Immune System I
2003 Optimum Brain Function
2002 A Healthy Visual System
2001 Trauma Recovery
2000 Embryogenesis and the Origins of Healing
License Number
0019000778, Commonwealth of Virginia
11110 Sunset Hills Rd.
P.O. Box 2534
Reston, Virginia 20191
USA
tel. 703 620-4509 (day)
fax. 703 620-4504
Hours of operation / Fees
$150.00 per session hour (55 minutes)/ $140 (phone sessions) Hours 8am-12noon, Tuesday-Friday
Driving directions
Call 703-620-4509 for directions or email us at office@HealingFromtheCore.com